SCANDINOR AC57
Masterclass Minimal Wall Clock
$95.46 – $114.81
When one decides to design a minimalistic clock, everything has to be perfect down to the last detail. The body, texture, and hands are of exactly the same material and size, so in this case, we might say size does matter! We think SCANDINOR Masterclass Minimal Wall Clock is lightweight, unique and striking, we hope you think so too!
The elegant color mix finishes of Nordic White, Greyish black with Premium wooden Finish is truly a Mastercraft by the designer. The selection of hands was one of the pure choices of elegance after lots of color combination experiments.
Description
SCANDINOR AC57 Masterclass Minimal Wall Clock
The stylish SCANDINOR AC57 Masterclass Minimal Wall Clock features a metal dial and crafted wooden body, the well-finished hands, and absent hour markers. This Nordic wall clock was crafted with a minimalistic and understated design but draws attention anyway due to its unique characteristics. The clockwork has a silent sweep movement to ensure you enjoy your peace and quiet. The simple open-framed design accentuates the wall it's hung on and will surely attract compliments from guests. Less is true, more.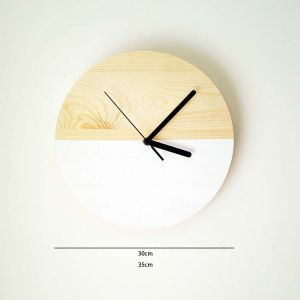 Specification
Item Type: Wall

Clock 

Designer:  Shaun Larsen

Dimension: D30cm & D35cm, W3Cm

Weight: .65 Kg

Installation Type: Wall Mount

Power Source: AA Battery

Body Material: Graded Wood Finish

Finish: Metal/Fiber plastic hands