Here are the top 10 Lighting trends 2023,  Lighting is one of the most important aspects of any interior, at the same time one of the most difficult to design and choose. Together we are sharing an update about some of the latest trends in lighting design together with a selection of new designs from northerncult.com.
However, for this 2023 interior lighting trend it will not be so necessary because you can create the appropriate lighting with appliques or "accent" lamps, that is, those that offer specific lights to specific areas.
It is thus sought to create greater privacy in certain spaces that do not have to depend on ceiling lamps to illuminate, but rather do so with other types of lamps. Lighting is an essential component to a successful design scheme yet is so much more important in wintertime, when the days are shorter and we spend far more time indoors than usual. 
Our focus has been drawn into our homes and we're acutely aware of how important it is for our homes to be both comfortable and beautiful. So while everything – including lighting – needs to have a purpose, it also needs to look good.
These are the points that we have considered most representative as Lighting trends 2023, but they are not the only ones, nor will they be. Normally, transitions are taking place throughout the year that will possibly be part of 2021 in lights, and Lighting trends 2023 is expected to release by end of December.
So we will be alert in case we should notify you of any important changes so that your home is always up to date. 
And here are our Top 10 attractive lighting trends 2023 for you;
Modern Farmhouse Pendant Light with metal finish makes this chandelier stand out in a crowd. Everything from the chain down is wrapped in rope, from the arms of the chandelier to the chains. The light fixtures are left unwrapped, partly for safety and partly for contrast with the rope. This unique piece brings a charming country touch to any dining room.
2. Vertigo Pendant Lights​
Modern Vertigo Pendant Light Fixture is made to create a durable and quality multi-particle polymer Fabric and metal frame for the modern lighting solution; something durable, timeless, and almost indescribable. This amazing Fabric pendant light shade fixture with E27 lamp source, for the 270° illumination. Simultaneously free and contained, and comprised of strong forms, with a clean finish. 
The Vertigo Pendant lights is voted as one of the most viewed items for living room lighting trends 2023 and dining room lighting trends 2023.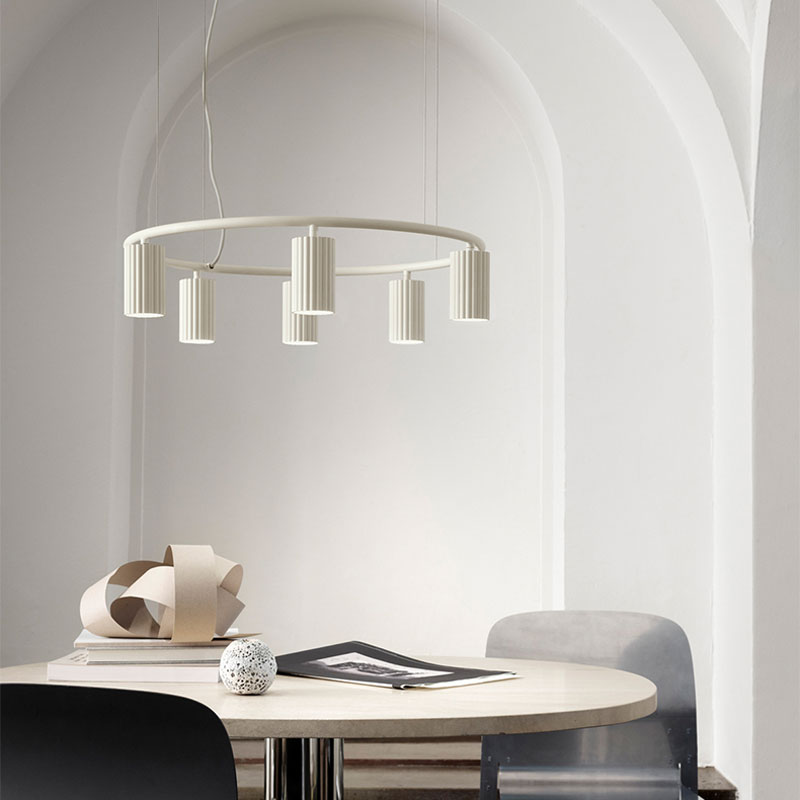 3. Scandinavian Design Lights​
 In Scandinavian design, you'll often find that the color palette is very simple and light. Dark blue, Dusty Pink, White and Black, where all will be in the matte finishes shades are popular and tend to work well when incorporated with bold flashes of color. 
The classic simplicity of this pendant light and its matte finish makes it a perfect choice for anyone hoping to channel some Scandi-inspired design into their home. The fixture represents beauty and elegance in making, in presentation, we have taken utmost care in crafting it of a single piece of aluminum and anodizing it to match the perfection of design. Suitable for high ceilings and places of attraction, this design would capture the eye of any.
Modern LED Chandelier for living room, that can also add a dramatic decorative element to dining rooms, reception desks, cafeterias, libraries, and other commercial applications, while these lights are the most preferred as decorative light for living room and also pendant light over islands, and really an amazing feature to add in restaurants.
In addition to aesthetic, and ambient lighting the amazingly awesome MONTERNIOS Modern LED Chandelier is the most attractive lighting,  When being used over a drawing-room, place your Chandelier fixture about 36 inches over the dining table. Downward multi-light pendants remain a favorite as they eliminate glares and shadows which in turn, promote the ambiance of the whole space.
Product : MONTERNIOS LG113 Modern LED Chandelier
5. Minimal Pendant Lights​
Whether it's the artistry or the practicality, everyone loves pendant lights, even pendant lights are evergreen and keep on evolving everyday ! We kept the minimal design as the top favourite among the Lighting trends of 2023. From globe pendants in kitchens to mini pendants in bathrooms, pendant lighting helps to bring the light down to the level where you need it!
Keep your pendant lighting trends 2023, we have updated to 2023 simple with a minimal pendant style like mini pendant lights, or make a bold statement with large pendant styles like oversized drum shade pendant lights. Distinguish your style with fresh and exciting ceiling pendant lighting in different finishes, but keep in mind always the minimal works best for all spaces.
In kitchen Lighting trends 2023, the pendant lights is a top favourite for designers to use as task lighting over kitchen islands.
Product : CHANDEL LG64 Elegant Pendant Lights
6. Brass Finish Linear Lights
Linear lighting is has become increasingly popular due to its flexibility, excellent performance and aesthetic appeal. Flexibility – when we look at linear lighting there is a plethora of options available such as direct/indirect, tuneable white, RGBW, daylight dimming and much more. These fantastic features packaged into stunning architectural luminaires can result in unrivalled products.
Recently the Brass finish linear lights are one among the top favourites for the interior designers to create truly unique designs with a luminaire that can be designed to fit as lighting design for dining room, so the second favourite is the linear with brass finish in lighting trends of 2023.
Just like the design, the Performance should also be considered – Linear LEDs are clean, minimal, reducing the need for reflectors and diffusers that and reduce efficacy. Aesthetics –  it is often not enough to have excellent performance; this needs to be matched with stunning design and elegant look.
Product: CLASSO LG63 Masterclass Linear Light
Characterized by clean lines, washed woods, soft edges and intuitive functionality, Scandinavian modern design is eternally timeless and timely. What's become known as the aesthetic started in the early 20th century, sparked from the Nordic countries and influencing such design movements as mid-century modern and Memphis. Smart, savvy, stylish.
The lights of this collection will be piece by piece fine examples of the Scandinavian design style. They unite a minimalistic design with an optimal light performance. The combination of Nordic Colors creates a perfect combination to the vibrant living spaces. These Nordic color finish lights are best for lighting in kitchen, lighting the living rooms etc. Nordic designs is always the best to pick in 2023 lighting trends.
Products : PENDACIRC LG65 Nordic Pendant Light , COLINOR LG58 Astounding Colored Linear Lights
From minimalistic to vintage, rustic to designer – no two wooden pendant lights are the same. Oak, walnut, birch or maple; straight and simple or more elaborate like a tree trunk; bearing semblance to branches, cages, old door latches, even a ship's wheel – the possibilities are truly endless!
2023 in lights cant be listed without Wooden pendant lights, they are as versatile as the materials they are made from and as imaginative as the designers who create them. It increases the quality of experience in workspaces, dining rooms and you name it, makes intelligent offices more efficient, strengthens well-being and productivity in the office, and in education, it increases guest comfort in the hospitality industry and creates new shopping experiences in your favorite space.
Products: BRAWO LG56 Stunning Wooden Linear lights 
The perfect lighting finish for fans of on-trend chic, concrete lighting is a quintessential piece of lighting for anyone looking to achieve an industrial vibe in their home. While concrete lights can typically be found to be a cold and uninviting home interior, the concrete lights serve to shed some warmth and light in any industrial space.
An excellent choice for those wishing to purchase a piece of statement lighting, concrete lights are sure to be one of the top points of interest in whichever space you place it. 
Those were the top 5 Lighting trendz in 2023, but there are many more amazing lighting designs in our collection, Check out our Shop here: Northerncult Shop
Modern LED Pendant Ring Lights have elements with sleek design by top quality material metal with the finishes from the curated collection of EVOLET Luminaires. The decorative ring pendant lights are manufactured with the easiness to adjust the height, the suspended set, that contrasts with the large, highly efficient light emittance surface, guaranteeing high levels of visual comfort.
The reinterpretation of an icon by the unique design of Infra-Structure evolves thanks to a new, extremely simplified sleek design concept. The subtle but visually stunning elements can be combined to characterize any architectural space with a strong stage presence with our latest classic custom brass pendant lights in the Chandel series.
Products: CHANDEL LG135 Modern LED Pendant Ring Light
In commercial lighting trends 2023, lighting will expand beyond just illumination thanks to the emergence of several new technologies that will pave the way for a connected world. With the entry of LEDs, lighting has transformed from analog to digital and can be remotely controlled and monitored. This opens a world of possibilities with multiple applications across offices, homes, cities, and public lighting, enabling both energy efficiency and higher productivity.
Lighting technology trends will create the largest opportunities in the market by making their way into homes and various other sectors in 2023. Visit our shop for all modern light fixtures.