The living room is easily the most dynamic area of the home. Since we are in 2021 living room lighting should have great lighting fixtures for both function and ambiance. Although every living room is different and requires a unique lighting design, there are a few elements all good living room lighting design should have.
As we always say best Living room lighting ideas should always have — Ambient, Task, and Accent lighting, also we would like to add one more layer for decorative lights under 'Feature Lighting'.
Feature lighting is stylish feature solutions, ideal for environments requiring mood & an eye-catching focal point to draw attention. Feature lighting extends beyond ambient and accent lighting to accentuate desired characteristics, create mood or orientation functions. Feature lighting provides an array of solutions for many diverse applications.
We believe the good living room lighting design for sure is understanding dark as much as understanding light, that best suits the room's mood, architectural features, and purpose. Let's take a look color temperature for living rooms, and a few lighting options, we have for living room lighting with these factors in mind.
What mood or atmosphere you want to create with living room lighting?
Do you want a warm soft glow or a cool white light for your space?
Warm lighting is ideal for when you want to relax and unwind, while a cool white light is energizing and ideal for a more open-plan space that benefits from brighter lighting. Read about our detailed blog about light color temperature here
Do you prefer a dimmer switch or a standard flick switch?
Dimmer switches are ideal for setting the right tone for your lighting needs. These will allow an individual to slide the switch to their desired level of lighting, which uses less electricity than a switch that is either fully on or fully off. When combined with LED light bulbs, dimmer switches can help control your building's energy costs. Read more about lighting control system
And finally, what is your budget?
Lighting can be pretty costly so it's worth shopping around for what you need.
01. Ambient lighting for overall illumination
Ambient lighting is intended to create a uniform light level throughout a space, independent of any special lighting that may be needed in targeted areas of a room. While many living rooms are equipped for this task with the standard "centered ceiling fan with four light bulbs" fair, you may want to consider alternative light fixtures to give your living room a more stylish or updated look.
If you're looking to make major changes or want a more even light distribution, spot and downlights are one of the best choices for ambient light in this space since they take up small living room lighting ideas and are often installed in multiples to ensure wider light coverage. If you decide recessed lighting is right for you but your ceiling is not already equipped for a recessed can lighting layout, consult an electrician to learn how to accomplish this task.
Also, there are surface mount lights that can be used if there are no gypsum ceilings available. Regardless of your light fixture(s), you will need light bulbs. When choosing bulbs for any space, you should carefully consider factors such as bulb shape and size, light source (incandescent, fluorescent, LED, etc.), brightness, and energy efficiency, although one of the most important yet overlooked factors to think about is color temperature. 
Many people prefer warm, yellow lighting (3000K-3500K) in their living room because it sets a comfortable ambiance and complements the earthy tones typically used in the living room décor. However, some people prefer brighter, natural white light (4000K) to create a more energizing atmosphere and enhance airy or fresh colors such as blues, greens, and whites. 
So while choosing the color temperature it's always better to use color temperature between (3000K – 4000K), warm white, and natural white. 
Here is the list of few amazing Luminaires from top lighting brands like FLOS, iGuzzini, John Cullen,
Also if you wish to check out our detailed blog on living room wall lighting ideas, read our blog here:
Wall Light sconces choosing the best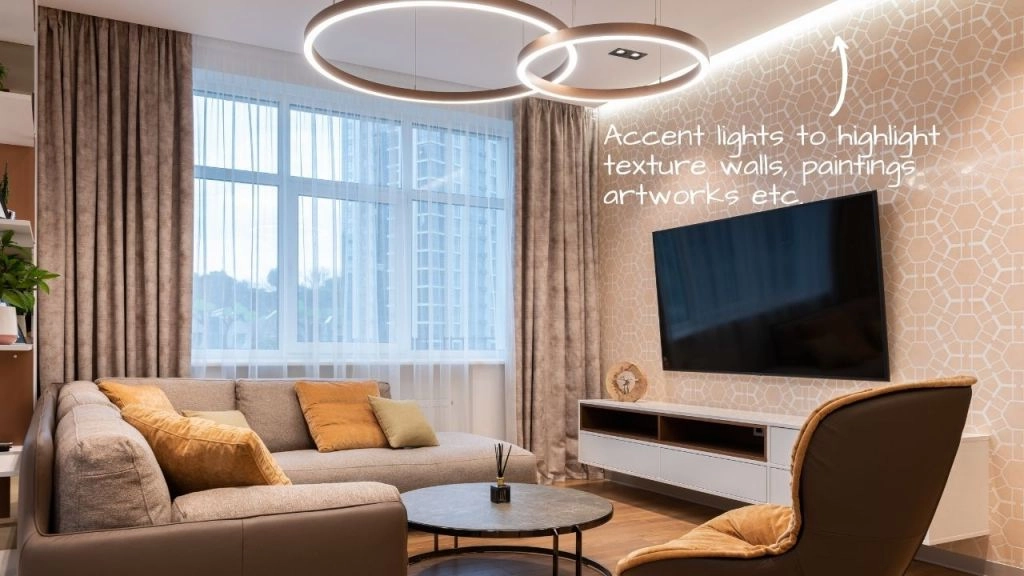 02. Accent lighting to highlight artworks and architectural features
Accent lighting is used mainly to focus on a specific point of interest or to achieve the desired effect. This type of lighting gives the impression of a larger room. It is more frequently used to highlight an architectural feature, a plant (in outdoor layout), a sculpture, or a collection of objects. There are many ways to incorporate accent lighting into your living room lighting, three of the most common techniques used in living room lighting are backlighting, display lighting, and wall-washing.
Cove light & Backlighting is when you place a light behind an object to create the illusion of depth, typically using LED strip light. In the living room, some of the best places to use backlight accents include inside alcoves, under cabinets, beneath furniture, behind screens or displays, and underneath steps.

Display lighting is to light or objects you want to make more prominent in a room. You may want to use display decorative objects resting on alcoves or shelves inside a large, glass-door cabinet, to better display artwork on your walls or above your fireplace.

Wall-washing is accomplished by directing light towards features on your wall. This technique is typically used to expand boundaries or call attention to positive aspects of a room. Create a wall-washing effect with recessed eyeball lights, track lights, or other directional fixtures

 
03. Task lighting to provide light for a specific purpose or task
Task lighting in living room lighting isn't a luxury, task lighting illuminates the tasks a person carries out in a given space such as reading, cooking, computer work. A brighter light is required in a smaller focal point of the room for these sorts of tasks. For a more pleasant illumination, it is often best to avoid harsh lights or lighting that cast troublesome shadows. It is also practical to install a single switch for focal lighting, independent of the room's overall lighting switch.
Floor lamps or table lamps resting on end tables are two common examples of task lighting in the living room. You will likely use these fixtures to create low-level lighting while you're watching TV or to direct light onto a book or other activity while you're sitting on the couch. 
The light quality for this space should either match that of your ambient light or be a little brighter and whiter so you can have stronger, clearer light to increase your focus on activities. Studies have shown that high color temperature lighting can boost productivity. So if you have a space in your living room dedicated to work or a hobby, you may want to consider using a bulb that emits light in a color temperature above 4000K.
04. Feature lighting that gives space personality and identity
Feature lighting is defintly the most eyecatching type of lighting in living room lighting, Feature lighting extends beyond ambient and accent lighting to accentuate desired characteristics, create mood or orientation functions. Feature lighting provides an array of solutions for many diverse applications. 
Feature lighting is the underestimated gem of the lighting world. Your living room is home to such a diverse range of activities, and you need to have the right lighting to help you in each and every situation. Feature lighting will bring the design element in any living room – just make sure you have all three layers of lighting in the mix too. 
BASIC PRINCIPLES OF LIGHTING
Let's start with the basic principles of lighting modern design with understanding the characteristics of the lighting source. Each bulb or lighting factor has conditions that may or may not be good for our spaces. Let us explain three characteristics of the light sources that you need to dominate before selecting bolts for a lighting factor for your space.
Color temperature is used as the method of describing the warmth or coolness of a light source the spectrum of color temperature is measured in Kelvin degrees. These values are used to describe the color emitted from the lighting sources.
Let's see a graphic that explained very well the color temperature scale.
As humans, we perceive the color temperature in different ways so each one will be adequate for different applications and activities. the warm light creates a cozy, calm, inviting atmosphere perfect to be used in bedrooms, living rooms, family rooms, dining rooms, or for any space that requires an intimate and personal mood. 
Neutral and soft white is a friendly and clean light best for kitchen and bathrooms or any kind of workspace like reading area, office workstations, etc. The cool white is adequate for offices, hospitals, or other commercial uses.
The Beam angle of a light source is the angle at which the light is distributed. if you want to highlight a special object then a spot angle could be the right choice. On the other hand, a wide-angle gives a more general and softer light which is a perfect choice to light up a wide area.
In simple terms lumens are a measure of the total amount of visible light to the human eye from a lamp or light source. the higher the lumen rating, the brighter, the lamp will appear. So first to select a bulb, take into account, the dimension and activities that you will develop in the space. it's true that other concepts exist about lighting design.
We can use different lighting types in interior design of lighting sources to design the lighting plan of a space like a pro. First of all, we need to understand that a good lighting design is all about layers. We need to blend different lighting sources into space to create contrast, highlight elements, color, and texture.
Let's see how the layers work, Ambient lighting is the base layer of light in any room. the main purpose of ambient lighting is the overall illumination of a room, which lets you see and move clearly throughout the entire room. ambient lighting is meant to create a general and uniform lighting level it's the first layer of lighting and sets the tone of a space.
Typically the ambient lighting is soft and diffused. You can incorporate ambient lighting interior space through ceiling-mounted or recessed fixtures, accent lighting intends to highlight a specific object or area, to draw attention to pictures such as artwork, furnishings, or architectural details converting them into focal points.
The accent lights are responsible for adding style, contrast, and drama to a space. So if you feel that your room may be missing that special element or feel, it may be the accent lighting.
This lighting layer in drawing room light design is used to highlight design elements of your space, in order to create more defined shadows that will add depth to each object and to the overall appearance of the space.
Ambient light fixtures for overall illumination.
Accent light fixtures highlight artworks and architectural features.
Task light fixtures to provide light for a specific purpose or task.
Feature lighting that gives space personality and identity.
Here is our list from Northerncult collection for the best light models for living room
1. Vertigo Pendant Lights​
Modern Vertigo Pendant Light Fixture is made to create a durable and quality multi-particle polymer Fabric and metal frame for the modern lighting solution; something durable, timeless, and almost indescribable. This amazing Fabric pendant light shade fixture with E27 lamp source, for the 270° illumination. Simultaneously free and contained, and comprised of strong forms, with a clean finish. 

The Vertigo Pendant lights is voted as one of the most viewed items for living room lighting trends 2021.
2. Scandinavian Design Lights​
 In Scandinavian design, you'll often find that the color palette is very simple and light. Dark blue, Dusty Pink, White and Black, where all will be in the matte finishes shades are popular and tend to work well when incorporated with bold flashes of color. 
The classic simplicity of this pendant light and its matte finish makes it a perfect choice for anyone hoping to channel some Scandi-inspired design into their home. The fixture represents beauty and elegance in making, in presentation, we have taken utmost care in crafting it of a single piece of aluminum and anodizing it to match the perfection of design. Suitable for high ceilings and places of attraction, this design would capture the eye of any.
Modern LED Chandelier for living room, that can also add a dramatic decorative element to dining rooms, reception desks, cafeterias, libraries, and other commercial applications, while these lights are the most preferred as decorative light for living room and also pendant light over islands, and really an amazing feature to add in restaurants.
In addition to aesthetic, and ambient lighting the amazingly awesome MONTERNIOS Modern LED Chandelier is the most attractive lighting,  When being used over a drawing-room, place your Chandelier fixture about 36 inches over the dining table. Downward multi-light pendants remain a favorite as they eliminate glares and shadows which in turn, promote the ambiance of the whole space.
Product : MONTERNIOS LG113 Modern LED Chandelier
Modern LED Pendant Ring Lights have elements with sleek design by top quality material metal with the finishes from the curated collection of EVOLET Luminaires. The decorative ring pendant lights are manufactured with the easiness to adjust the height, the suspended set, that contrasts with the large, highly efficient light emittance surface, guaranteeing high levels of visual comfort.
The reinterpretation of an icon by the unique design of Infra-Structure evolves thanks to a new, extremely simplified sleek design concept. The subtle but visually stunning elements can be combined to characterize any architectural space with a strong stage presence with our latest classic custom brass pendant lights in the Chandel series.
Products: CHANDEL LG135 Modern LED Pendant Ring Light
Modern Farmhouse Pendant Light with metal finish makes this chandelier stand out in a crowd. Everything from the chain down is wrapped in rope, from the arms of the chandelier to the chains. The light fixtures are left unwrapped, partly for safety and partly for contrast with the rope. This unique piece brings a charming country touch to any dining room.
FAQs about living room lighting
How do I light up my living room?
1. Develop a basic lighting plan understanding your requirements
2. Choose the right color temperature, the Warm white color is best for livingrooms, bedrooms, providing a traditional warm, cozy feel to them or any room that requires an intimate and personal mood. Consider using Neutral light (4000K) for task lights.
3. Use layers of lighting such as downlight as ambient lights, Pendant lights as accent lights, and consider using floor lamps if you need task lights.
4. Consider using decorative pendant light or chandeliers as feature light to match the ambiance of the living room, which gives a personality to space.
5. Install dimmer switches to adjust the brightness, and maybe a DALI lighting system to group the lights for turn on, dimming, and wireless light control system.
How do I choose a ceiling light for a living room?
Measure the ceiling height. Choose the size of the Ceiling fixture diameter and height. Also make sure you pick the light fixture with the right installation, like a recessed or surface mount light fixture. Use the color and finish to match the overall ambiance of the room. Choose dark finishes like black or bronze if your home has dark door hardware
How many lights should I put in my living room?
Rather than choosing the light quantity try to incorporate three layers of lighting such as downlight as ambient lights, Pendant lights as accent lights, and consider using floor lamps or table lamps if you need task lights. Consider using decorative pendant light or chandeliers as feature light to match the ambiance of the room, which gives a personality to space.
How bright should a living room be?
The living room should be around the average lux level should be 300 lux (28 - 30 foot candles) for general areas, 500 lux (46 - 50 foot candles) for task areas.
Download Our Free Lighting Ebook Now!
This contact form is available only for logged in users.