Do you have a rooftop terrace or patio, then you know that the alfresco opportunities are endless. The rooftop BBQ's, sunny day parties, sunbathing sessions, that cosy romantic spot or even an open work from home space (of course depending on the climate in your country, you may not want to sweat all the way in your meeting right?).
Having a rooftop terrace in their home or apartment is one of the fortunate things someone can have, especially in cities. Growing a garden, planting some shrubs and vegetables on the terraces are some conventional yet delightful practice by people, (who wouldn't want to see a new flower or fruit on that plant you spent watering every day)
Having a rooftop garden is refreshing and is a therapy for the mind. But apart from gardening, there are loads of design styles that you can use to reinvent this outdoor space. In this blog we cover the best rooftop design ideas for house.
A rooftop terrace home design especially the rooftop design for small house in an urban stretch acts as a connection between the users and the surroundings while providing a breathable private space. It is the space where users should feel truly comfortable, embodied in a connective landscape. During the times when being indoors is undeniable, a rooftop getaway is one of the convenient choices to bring diversity to one's daily life…
So here are 10 rooftop design for house ideas that can help you.
When we say trees yes we meant trees, trees that can be grown on the terrace and even provide you shade in sun. Plants and trees can certainly add liveliness to any space. Think about that neck-high grasses or shrubs or creeper plants, few cosy beds and a table on your terrace in the city. It is also an effective method to keep your space free of pollutants that are transmitted by air. There are different plants like creepers and cactus plants that can be grown in planter boxes or pots, easily maintained and adds to the beauty.
 "There is actually a lot of scientific evidence that adding plants to any workspace or living environment actually does help to reduce stress, there are obviously therapeutic effects of caring for plants and gardening has been shown to decrease blood pressure and reduce stress, so the benefits go beyond helping to clean the air and add oxygen." says horticulturist Marc Hachadourian.
You can easily give a touch of class to your roof-top by adding a pergola. You have so many options for design and materials available in the market or better design one yourself and get it made locally. Or there are many interior shops that offer modular pergolas which can be put together in-situ.
 These are available in different sizes and will also enhance the beauty of the space. Spread some vines on it, hang some warm lights and there you have shade from the sun and a more elegant rooftop. Mind having a candlelight dinner or family get together. 

Set up few poles on the corners of your roof, tie ropes from one end to another now spread those warm string lights, there you have your rooftop for all types of parties. Place some planter boxes here and there, a table, few chairs now enjoy the transition. These are the most simple and cost-effective way to create an ambience for everyone.
You better get that barrels and used crates from the sales. Take that thick rope to create a vertical pergola. If you want a more farmhouse look, you should go for a wooden deck and table made of the bark of a tree.

You don't want to spend on your rooftop never mind. take whatever things you no more use whether it be that bed sheet, pyjamas or stained t-shirt, with some time at your hand you can turn your rooftop into a den of your creativity. Collect whatever things you can find from the dump yard, you found a tyre? there you have the seating.

Fill it with worn-out t-shirts, sponges, cover and paint it. What about a bed of flowers and moss walls as greens never cease to add life to any space? A foosball table definitely will be a cosy focus when you are weekend wine-drunk, only if you mind spending. The best rooftop design for small house, will be a BOHO DIY style.
A sculpture garden will not only enhance the aesthetic beauty of the space but also uplift your style quotient. Go renaissance. Buy those white cement sculptures, get it up on a stand or the floor. Hang some spotlights here and there. But before setting up a sculpture garden ensure that your roof can bear the weight.
Adding some plants on the side of walkways and creepers on the sculpture e will make this space more beautiful and eye-catching and will be the simple rooftop house design. Why go for a conventional rooftop when you can go for a renaissance gallery.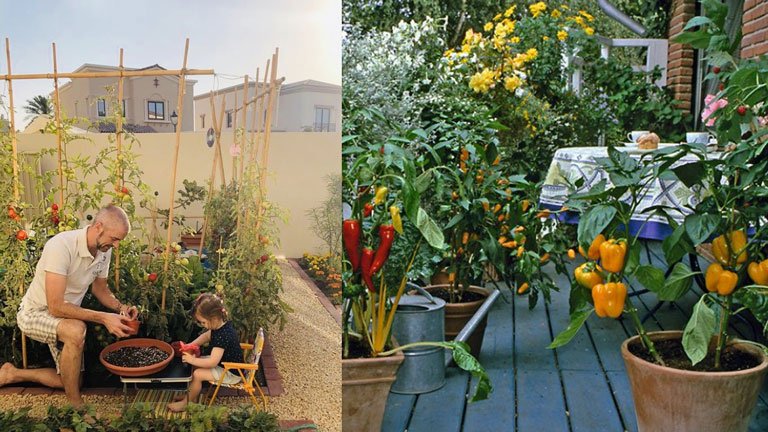 If you have space and time, then why don't you make your own food. Tomatoes, strawberries, passion fruit, eggplant, you have endless options. You can set up vertical layers of celery, basil.
Ever thought of horticulture and aquaponics together? Some fish to add to the beauty? Why limit it to just vegetables what about little skincare with aloe vera, hibiscus, lavender, mint. Enhance the beauty of this garden by adding a wooden gazebo with folding furniture. You know to rest after long farming hours drinking chamomile tea. 
A bamboo thatched roof, there you have your private gazebo. When you have a rooftop terrace, you hardly need to go to any other places for enjoying the fresh air.
Covering your rooftop with bamboo gives you the ultimate protection against sun and rain. Add some wicker sofas and table that will enhance the aesthetic of space and will help you to enjoy the fresh air.
When you have a diverse climate it may not be always practical to stick up to an open-to-sky theme. 
Get yourself some modular sunshades or umbrellas where you can sit safely and enjoy the monsoon and summer in a relaxed way. Set up a wide wooden (weatherproof) deck and give a makeover to your rooftop space.
Enjoy the monsoon while seating at your rooftop terrace having hot coffee. 
10. RICH REGIONAL CULTURAL 
Ever thought of going cultural? All middle-eastern with the intricate floral patterned tiles, glass lamps and low rise furniture or all south Asian with silk cushions, vibrant colours and antique lights or what about a Scandinavian touch.
Most of us have that exotic culture we love so much so why not bring it to your home… that space taking you to your dream world. Can I count Disney land as my culture ? With the help of the internet, you can find any number of inspirational ideas which will help you to revamp the aesthetics of your home.
Following this is a rooftop design by Ar Jean-Marie Ramia from Lebanon. Here he explains his latest rooftop design. Here's a rooftop terrace house plans of an actual project he completed in Lebanon.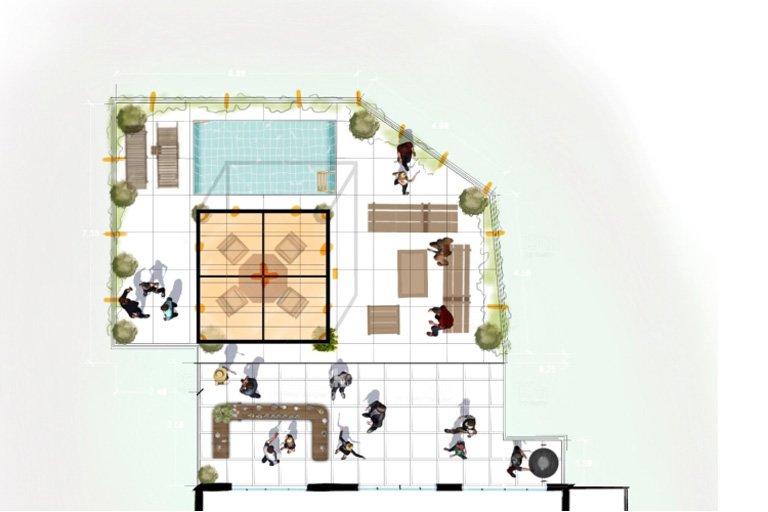 This continual passion, consolidated in design conciseness and horticulture expertise, manifests itself in every element of the modern roof design (name of the project). A roof terrace design is not only an adequate usage of space but also enhances the quality of a space; it provides a get away from the home and influences the psychological state of the users especially during the times when you have to stay indoors for long. In this roof terrace blog, Jean takes you through one of his design in Lebanon, going into the design and lighting elements, construction, roof garden and location views.
Ideally clad in the blue sky, leafy trees and memorable mountains, Miziara is a touristic destination for having a hike, a relaxing journey or a site visit. This permanent calm village life accentuates furthermore the need of having a spot like a garden rooftop.
Fig: Mid-height vantage points: iconic Lebanese mountains landmark views
Roof top plants and garden in Lebanon
Branched, foliaged and scrubs: vitalizing roof garden floras
Attitudinally polarized between foliage minimalists and cultivar collectors, roof terrace planting impels an artistic duologue among altitudinous and low-lying gardening methods, as well as a front-line ecological discourse amid congenital skepticism and converted belief.
While wind whirls hinder the performance of only the gentlest of Mediterranean plant species, we integrate and cultivate every imaginable vegetation type to frame the roof garden, cinematically perched around; well-drained, irrigated and basking in natural light. The simple creation of eco-friendly gardens simply wins the contrast of any regular rooftop having the advantage of embellishing concrete spaces, unfinished materials and rejuvenating the space.
LIGHTSCAPE, UP ON THE ROOF
Augmented outline luminosity generated by lustrous surfaces forms dynamic lighting nuances in roof terrace environments, where powder-coated finishes, glossy foliage and a plenitude of industrial elements fashion the space.
The refined balance between textures, colour palettes, volumes and voids articulates in compliance with the shadows and light interplays which enhance the architectural frameworks and creates enchanting nocturnal silhouettes in the project.
Also highlighting the pergola elemental framing with its curtains by using spotlights and other types of bottom lighting is very crucial in such a project. Light is simply a life asset that introduces the rooftop gardens to visitors.
Jean-Marie Ramia
Architect, Architwist
Jean-Marie is everything you can find in a designer, cognitive, creative and of course the sketching skills. Energetically commencing his 22nd year as an architect and designer, Jean-Marie now has his own architectural office (Architwist). Nattily encompassing refined details, his custom-made designs present wonders with the lush green along with the impact lighting contribute to his plan and design.

Jean-Marie's captivation with Lebanon's multicultural diversities, abundant nature and historic landmarks, in his words, empowers his unique way of design versatility – warmly furthered by a fiercely flexible client-focused approach. Jean prefers to be updated about advanced technologies. He is a constant auto critic and believes in improvement by self-actualization. Interested in multicultural interaction with its environment, he is determined and considers architecture an embedded part and passion of his life.