Sale!
XYLO LG141
Rattan Pendant Light
$561.15 – $743.04
Large and prominent, yet discreet enough to perfectly blend into the environment, this rattan pendant light might be just what you're looking for. Its timeless design will easily fit in a range of room styles, from eclectic to modern. if you like rattan but are not a fan of common designs, here is a pendant light you may love.
The intricate pattern on a simple globe is a chic eye-catcher that will undoubtedly attract attention. Rattan pendant light chandelier. A sustainable lighting design, eco-friendly, neutral decor, interior design trends 2022.
Available as Black Rattan Pendant lights and Natural bamboo shade. XYLO LG141 – Rattan Pendant Light is available in 2 Color finishes and four sizes
Dia: 35cm, 40cm, 50cm, 60cm
Description
XYLO LG141 – Rattan Pendant Light
XYLO LG141 – Rattan Pendant Light – Pendant lighting is pretty much a staple element in modern homes, due to its functionality and ability to create a unique mood. Rattan, wicker, and bamboo have been a part of interior home design from old times, especially in Asian countries with a strong wellbeing culture. Put these two together and we have natural fiber lighting pieces that are stylish, versatile, and provide an easy way to add texture and architectural interest to any space.
In our pendant and suspension lighting range, there are many modern pendant light fixtures for all interior styles and rooms. So if it's a pendant light for your living room, meeting room, or even over the kitchen island what you need to hang beautifully above a dining table and provide a directional light or a stunning pendant light for the hallway, look no further, we have got it covered.
Made of natural sturdy rattan mixed with synthetic rattan. It shows a herringbone pattern woven style.  Handwoven in and shipped from Bali. Which room will you use for this piece? Kitchen island, entryway, hallway foyer, bedroom, living room, dining room, patio, terrace, cabana, porch, garden, rooftop, restaurant lighting, coffee shop, cafe lighting, wedding events
The natural warmth of rattan meets the airy look of a weave pendant. Wonderfully versatile, these work well grouped above a dining table, solo in a reading nook, or anywhere you want a relaxed touch. Woven entirely by hand, it adds beautiful texture. Along with a plethora of benefits come a range of designs to choose from. We have curated a very special selection, so stay with us and explore.
Innovations determine our business success and provide answers to many challenges of our time. In Northerncult, we are constantly seeking new solutions that save resources and protect our natural foundations of life at the same time. So we can always say NorthernCult is one of the top 10 lighting companies for customization.
Shop modern lights online for the best modern pendant light fixtures and contemporary Lighting to match your style and budget from Northerncult shop. Enjoy Free Shipping on most stuff, even big stuff. Northerncult is one of the best online lighting stores, the good news is now you can contact us directly and let us sit together if you need any customization, our design team will be happy to help you out. Just drop a line with the product details to our email: [email protected]
XYLO LG141 – Rattan Pendant Light Sizes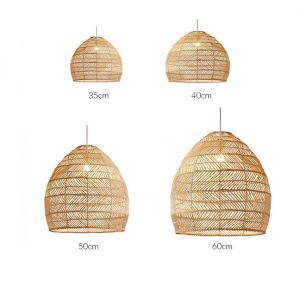 Specification
Item Type: Pendant light
Light Source: E27 Lamp
Finish: Black, Bamboo
Bulbs Included: Yes
Dimmable: No
Switch Type: On/Off
Voltage: AC210-260V
Shade Type: Rattan
Power Source: AC
Installation Type: Pendant