CHANDEL LG68
Exquisite Brass Pendant Lights
$285.09 – $537.93
CHANDEL LG68 -Exquisite Brass Pendant Lights have elements with sleek design by top quality material and brass finish from a curated collection of EVOLET Luminaires. The decorative brass pendant light is manufactured and features a black suspended cable and custom brass pendant light finishes that contrasts with the large, highly efficient light emittance surface, guaranteeing high levels of visual comfort.
The reinterpretation of an icon by the unique design of Infra-Structure evolves thanks to a new, extremely simplified sleek design concept. The subtle but visually stunning elements can be combined to characterize any architectural space with a strong stage presence with our latest classic custom brass pendant lights in the Chandel series.
Description
CHANDEL LG68 – Exquisite Brass Pendant Lights
We like to think of pendant lighting as jewelry for a ceiling. Some pendant lights provide general lighting, while others emit more directed light. They all top off a room with eye-catching style, whether you want a romantic glass chandelier or a sci-fi-inspired, shapeshifting globe. The CHANDEL KG68 is made from H65 brass, which is a non-ferrous metal tube, with strong corrosion resistance. While H65 represents a brass tube containing 65% copper.
The installation method for these lights are well explained with the catalog and we even got a complete blog on it you can check it out: Hanging Simple Multiple Pendant Lights – 3 Methods
And the good news is now you can contact us directly and let sit together if you need any customization, our design team will be happy to help you out. Just drop a line with the product details to our email: [email protected].
CHANDEL LG68 – Exquisite Brass Pendant Lights dimensions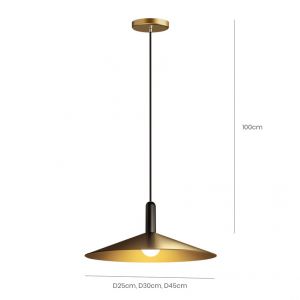 Specification
Item Type: 

Pendant light

Designer: Vincent Sedyun

Dimension: Height 100cm (adjustable) + 15cm, 45cm Dia (Large),
30cm Dia (Medium), 25cm (Small)


Light Source: 

LED E27 Base




Installation Type: Pendant/Hanging




Dimmable: 

No


Shade Direction:

Down


Power Source: 

AC 



Body Material: H65 Brass


Finish: Brass + Black Finish 




Voltage: 

90-260V, 50 to 60 Hz
Tags: brass pendant lights, decorative pendant light, custom brass pendant light, brass pendant light, antique brass ceiling lights, brass pendant, antique brass pendant light, black and brass pendant light, brass pendant light kitchen, brass dome pendant light,