Sale!
BLACE HD52
Stunning Black Vases
We designed the BLACE Black Vases Series as  have been around since we first started to bring in plants and flowers to decorate our homes. They come in so many different forms that trying to find the perfect one for your space can give you headaches. Now we use them even without flowers, and from white to glass, it has evolved with us. The latest design series BLACE Black vases from Northerncult brings you elegant looking black vases in minimal design theme such a true masterpiece handcrafted by truly gifted artists.
The best strategy is to have a set of criteria to help you make a decision. For example, consider the size of the vase. A large vase can look beautiful if you place it on the floor, in the corner of the room, or if you want to use it to display some tall flowers or branches. Small vases in black finish can be used as accessories for the dining table or simply to add color to certain parts of a room. The shape of the vase is also important.
Depending on what type of flower arrangement you want to create, you can either get a thin and tall vase or a short, bowl-shaped one. You have got 8 options in the Blace Black Vases series to choose from.
Description
BLACE VS52 – Stunning Black Vases
How about buying one of these Stunning designed Black vases? You are not the first person who has decided to visit this site and maybe you will also leave it satisfied with a new purchase. The best thing you can do now is checking out all these designs and offers, so as to be able to pick your combination wisely. Not all flower vases will work well for all flowers, and sometimes you just won't have the perfect vase available for the type of display you want to create.
With a little creativity, however, you can easily adapt even a less-than-perfect vase into a brilliant showcase for your blooms. These are crafted by skilled artists and uses high-quality Ceramic & Porcelain material to meet the quality and finish, the vases can be used by
Adding filler to a clear vase conceals stems, adds a touch of color, and fills in extra space so the vase doesn't seem disproportionate to the flowers. Pine or herb sprigs, greenery, cranberries, sand, gravel, rocks, and shells are all fine filler choices.
Tying a ribbon around the black vase can add a decorative accent and coordinate with the colors in the arrangement and other table linens, you could use raffia, twine, yarn, or other materials to form a bow or knot.
Grouping several small vases into one arrangement is a creative way to break up a larger bouquet when you may not have a large vase to work with. This also allows you to work with a more eclectic set of vases and is a great option for larger tables and larger spaces.
A stylish and wide assortment of beautiful design with a modern touch and clean-lined finish to be enjoyed in any space whether it be your living room, bedroom, or even your office space.
No matter what flowers you want to display or what vase you may have to work with, there are ways to select the perfect vase to go with your arrangement, even if you need to tweak either the vase or the flowers for the best result. With a little creativity and thoughtfulness, your arrangements will be stunning displays everyone will enjoy.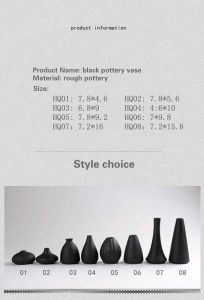 Specifications
Model: BLACE VS52 – Stunning Black Vases

Style: 

Modern 

Material: 

Ceramic & Porcelain

Size: 

M

Function: 

Tabletop Vase

Finish: Black

Application:

Home furnishings