From sconces to pendants, and recessed to track lights, we explain the nine different types of lights. Lighting can be one of the most powerful ways to transform a space and its ambiance, so it's crucial to understand the basics.
First thing's first: Do you know we can divide all the lights into four sections. So, what are the 4 types of light or four different layers of lighting, which are ambient lighting, accent lighting, task lighting, and feature lighting. 
Ambient lighting, also known as general lighting, intends to light up the entire room at a uniform level;
Accent lighting highlights a specific point of interest; like highlighting a painting, sculpture etc.
Task lighting provides light for specific tasks such as reading, writing, cooking, or computer work.
Feature lighting is those decorative lights like chandeliers and designer lights that bring a character to space.
These 09 different types of lights are used for Four different layers of lighting which are Accent, Ambient, Task, and Feature Lighting. Below, we guide you through the types of indoor lighting for your home and where to use them.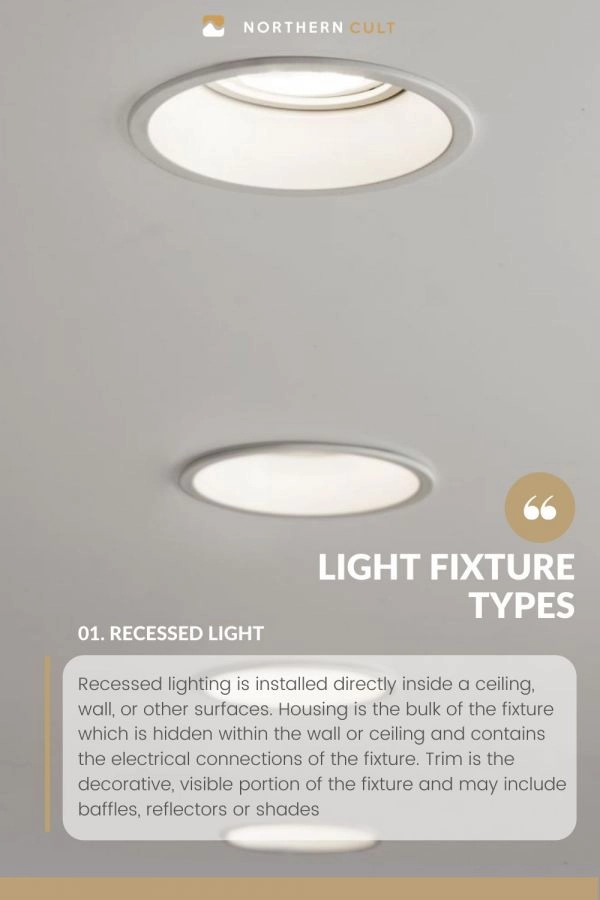 A recessed light or downlight (also pot light) is a light fixture that is installed into a hollow opening in a ceiling. When installed it appears to have light shining from a hole in the ceiling, concentrating the light in a downward direction. 

There are three parts to a recessed lighting fixture: housing, trim, and bulb or light source (LED Chip). The trim is the visible portion of the light. It is the insert that is seen when looking up into the fixture, and also includes the thin lining around the edge of the light.
Recessed lights can be used for both Ambient lighting and Accent lighting. just to clarify the latter is about the decorative aspect please see our detailed blog about types of lighting and types of light sources, more.
Where to use :
Basically anywhere with gypsum ceilings, Living rooms, Bedrooms, Kitchen, Office rooms, hallways, and bathroom (IP54, IP65 Lights).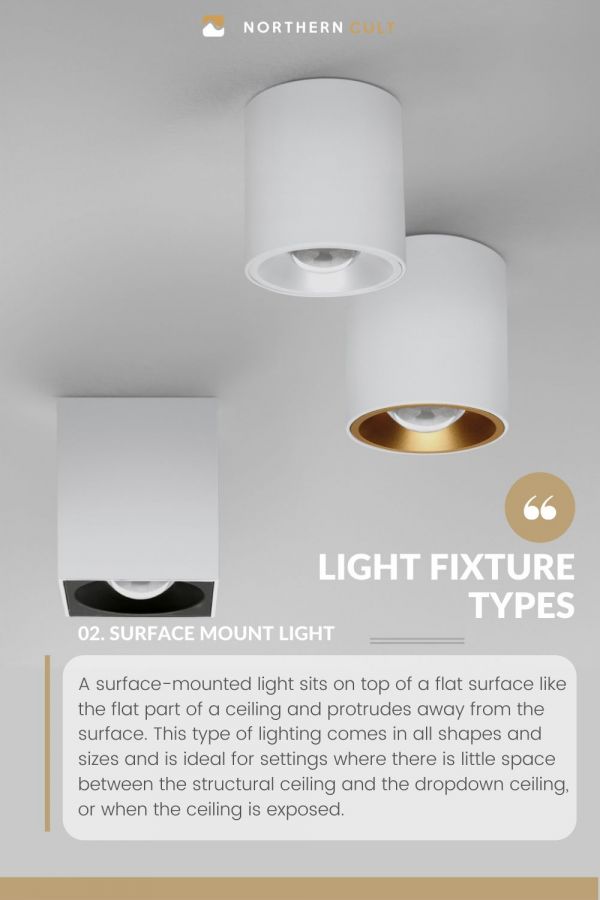 A surface mount LED sits on top of a flat surface, such as a ceiling. Because of this, they can also be called ceiling lights;  They're available in a variety of shapes and sizes and are perfect for applications where recessed lighting cannot be installed. It is easier to install, replace and remove surface-mounted light fixtures than recessed ones. 
The real difference dependsing on the look you're going for. Are you looking for a clean look or a decorative one? Recessed lights disappear within the room while surface mounted lights can become a focal point.
Where to use:
Ideal for settings where there is little space between the structural ceiling and the dropdown ceiling, or when the ceiling is exposed. In a residential home these are used in kitchens, foyers, hallways, closets, and bathrooms, as well as in garages and basements.
Next in our list of different types of lights for home, is track light, Track lighting consists of a series of lights that run on a metal structure that contains electrical conductors inside, to which adjustable spotlights or pendant lamps are attached.  Track lights are perfect when you want to accent certain areas of the room, such as objects, art or shelving, and display units. They are also very helpful in rooms where you need a lot of light in a particular area to work under.
Where to use:
A straight track along with a hallway ceiling and aim fixtures at the artwork on either wall, artwork hung over a mantel or on a wall, Kitchens where allow you to place light right where you need it — over an island or onto the countertops.
Pendants are the most decorated item with multiple options available in types of light fixtures. We like to think of pendant lamps as jewelry for a ceiling. Some ceiling lights provide general lighting, while others emit more directed light. They all top off a room with an eye-catching style, whether you want romantic glass pendants or sci-fi inspired. 
Pendant lighting can be placed in all rooms of your house to provide task lighting, ambient lighting, and even decorative lighting.  They create a focused source of light that hangs from above, which can be used to light up previously dark areas of your home for either task or ambient lighting. In addition, pendant lights reduce clutter because they take up much less space than floor or table lamps.
Where to use:  
Pendant lights are often used in multiples, hung in a straight line over kitchen countertops and dinette sets, or sometimes in bathrooms. Also nowadays pendant lights are used in bedrooms on either side of the bed as a decorative element to replace the traditional wall sconces/reading lights.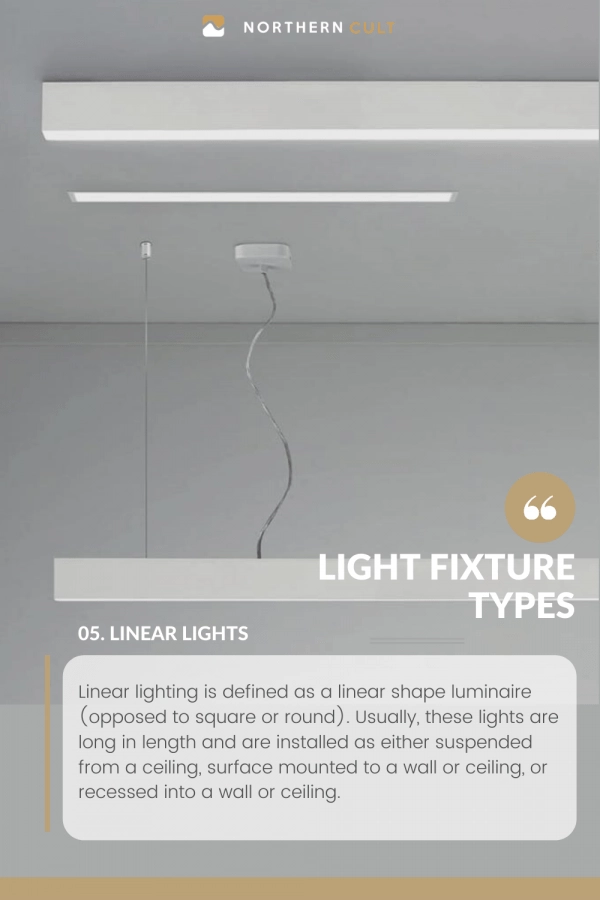 Even though linear lights aren't popular in the conventional types of lighting fixtures for residential the beauty of integrated linear LED lighting is its flexibility and strips to open up a world of illuminating possibilities for your home, as they can be hidden, housed in interesting profiles, and integrated into all kinds of joinery and architectural details.
Linear LED lights offer a pleasing wash of light when integrated into architectural elements such as recessed ones, The indoor linear lighting combines aesthetic and technical elements. Linear lights can be customized to most shapes and can be installed in three ways, recessed, suspended, and surface-mounted. The light effects generated by the light lines that split the space allow creating plays and combinations between the architectural or furnishing elements. 
Where to use:
Linear lighting in shelving, Linear lights over the dining table and kitchen islands, Wash lighting with integrated linear lights,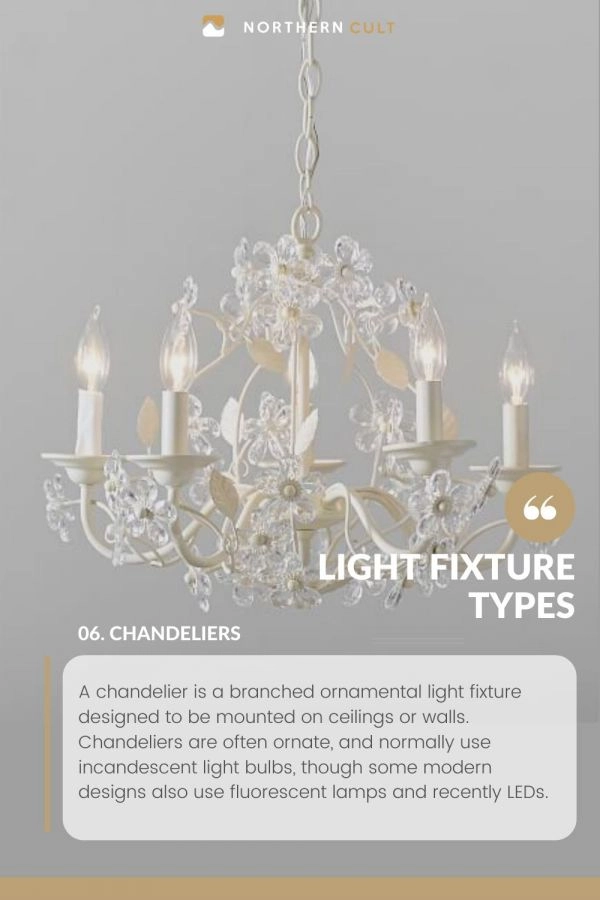 How can we avoid the amazing Chandeliers while discussing different types of lights for residential homes? Chandeliers have evolved and it's time to think beyond the traditional dining room chandelier! The versatility of chandelier lighting has enabled it to venture out beyond the formal rooms and not only serve as a striking visual centerpiece but as the main source of lighting for almost any room.  
A unique, unusual, and fun chandelier can set the tone for an entire room and enhance its surroundings. At Shades of Light, we have curated a truly distinguished selection of chandeliers that spans the breadth of today's home decor styles. 
Where to use:
In a small entryway, the chandelier should hang in the middle of the room. In the bedroom or living room, place it in the middle of the room and above the coffee table, dining table, kitchen island.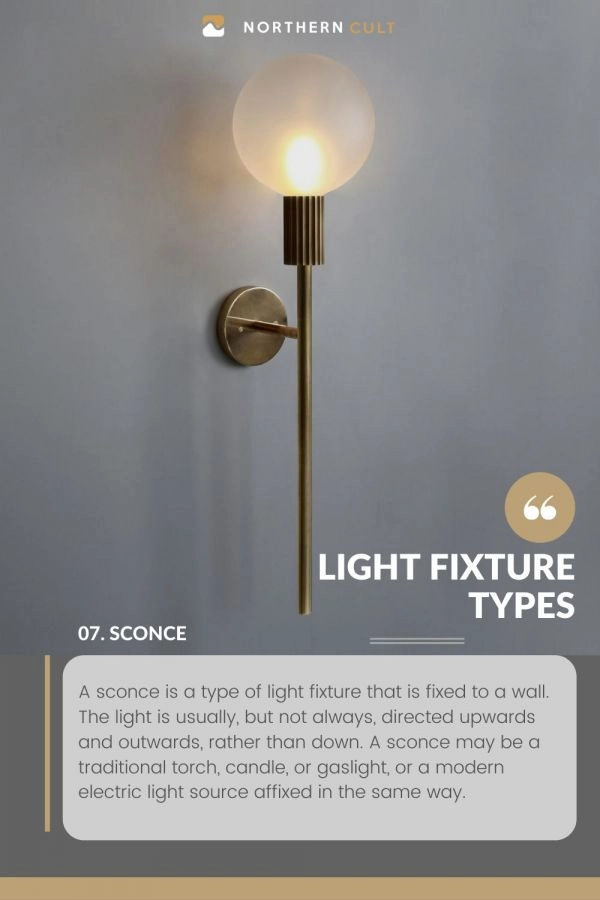 A wall sconce is a specific type of wall-mounted fixture that can add both general and accent lighting to your home. Perfect for the bedroom, hallway, kitchen, or bathroom, these wall lighting designs are a great way to illuminate your home and come in a wide variety of styles and finishes.
Even though sconces aren't encouraged with minimal or latest designs, it's still being used in the middle east and traditional designs. We have added sconces to different types of lights blog.
By using a pair of industrial wall sconces on either side of the bed to add a sense of symmetry to your bedroom, free up floor space, enjoy individually controlled illumination (sometimes you just aren't ready to put down your book!), and take a step towards much celebrated modern minimalism. 
Where to use:
Wall sconce lighting maximizes floor space, making them an attractive solution for smaller rooms. Wall sconces simply stay out of the way. While floor or pendant lighting and even bedside table lamps take up a lot of space.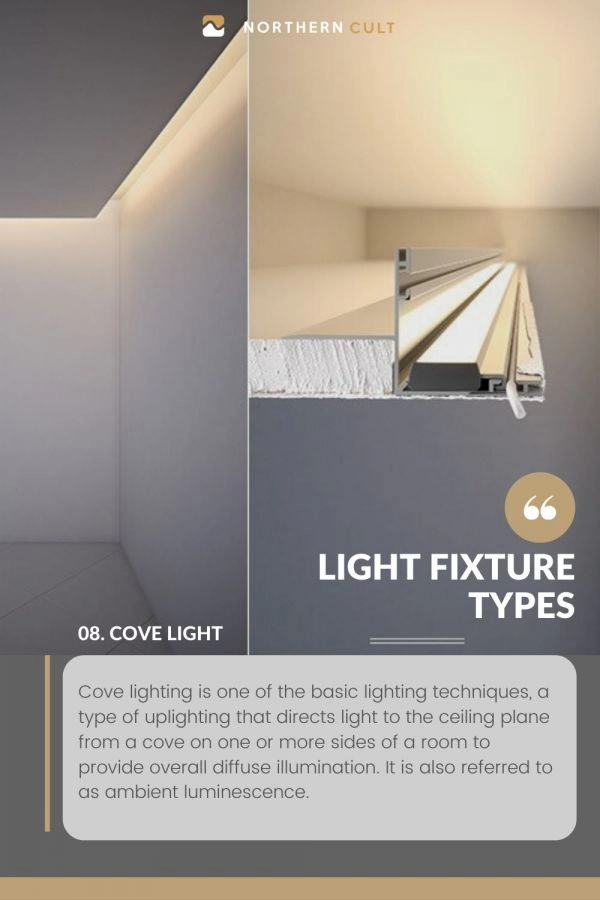 We added the cove lighting to the different types of lights intentionally as most of the projects even if they are residential space or commercial space projects, cant remove cove light nowadays. 
Cove lighting is an indirect lighting application, helps create an ambient glow in the space purely with reflected lighting. This is soothing to the eyes and does not draw attention to itself. It also creates less contrast in the space while increasing the overall light levels.
Where to use:
Installation of cove lighting is normally done behind the ceiling or the walls to flush the lights or bring character to specific areas to highlight texture walls or any features. Nowadays cove lights are used in bathrooms as accent lighting. ​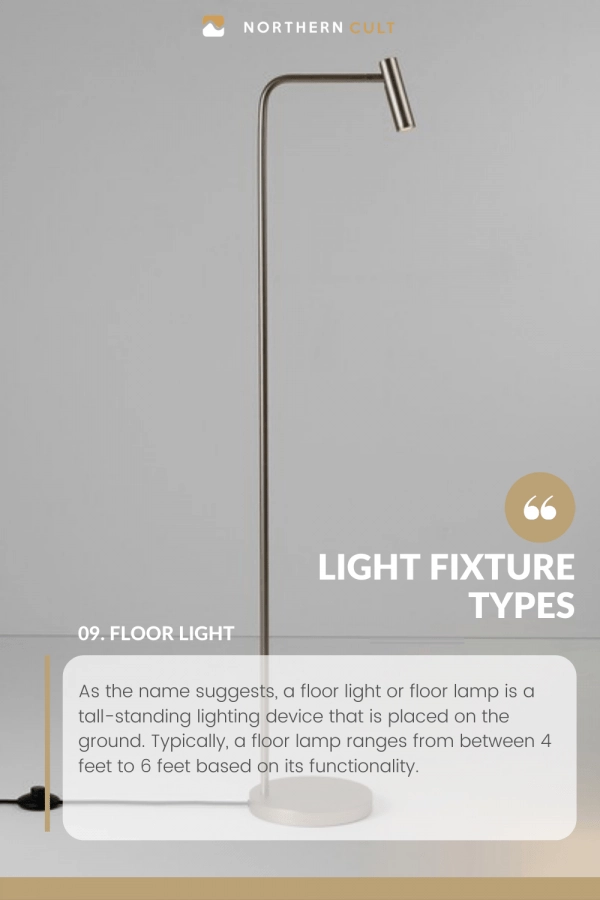 Last in our list of types of lights used in interiors, is the floor light, The Floor light is elevated, it provides an illusion of vertical space, making it one of the best light decoration ideas for homes and commercial spaces. They are also easy to install and available in a gamut of designs. However, apart from their aesthetic appeal, floor lights offer a plethora of stylish and unique uses. 
From picturesque reading lamps to vintage pharmacy lamps, floor lamps provide a variety of utilitarian benefits. If relaxing and unwinding in your living room over a hot cup of coffee and an intriguing book is the best part of your day, opt for a gorgeous floor reading lamp to complement your decor.
Where to use:
The floor lights for the bedroom should be at shoulder level so the light does not fall harshly on your eyes when you are seated on the bed. Furthermore, while installing it in the living room, choose a corner that does not hinder free movement. The most ideal spot would be by the couch, in one of the corners of the room. It can also be placed between furniture, to add in a subtle yet significant glow.
FAQs about different types of lights
What are the 4 types of lighting?
1. Ambient lighting, also known as general lighting, intends to light up the entire room at a uniform level;

2. Accent lighting highlights a specific point of interest; like highlighting a painting, sculpture, etc.

3. Task lighting provides light for specific tasks such as reading, writing, cooking, or computer work.

4. Feature lighting is those decorative lights like chandeliers and designer lights that bring a character to space.
What is the best type of lighting?
The best type of lighting in terms of energy efficiency and life span is LED lights, LEDs have lower power consumption than incandescent bulbs and emit more light output. Good quality LEDs can last over 5-10 years and don't contain mercury or any harmful gases.
What are the 3 types of light?
The three types of indoor lighting or layers of lights are Ambient lighting, Accent lighting, and Task lighting